Sendbird UIKit for Android is a set of prebuilt UI components that allows you to easily craft an in-app chat with all the essential messaging features. Our development kit includes light and dark themes, text fonts, colors and more. You can customize these components to create an interactive messaging interface unique to your brand identity.
Sendbird UIKit supports both open channels and group channels. Follow the guide below to start sending a message from scratch using Java or Kotlin.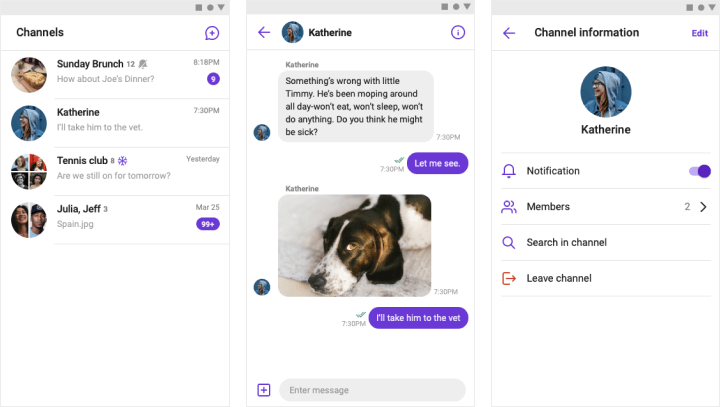 ---
The minimum requirements for UIKit for Android are:
Android 4.1 (API level 16) or higher
Java 8
Support androidx only
Gradle 4.0.1 or higher
---
You can start building a modern messaging experience in your app by installing Sendbird UIKit. This developer kit is an add-on feature to Sendbird Chat SDK so installing it will also install the core Chat SDK.
To get started, open Android Studio and create a new project for UIKit in the Project window as follows:
Click Start a new Android Studio project in the Welcome to Android Studio window.
Select Empty Activity in the Select a Project Template window and click Next.
Enter your project name in the Name field in the Configure your project window.
Select your language as either Java or Kotlin from the Language drop-down menu.
Enable Use androidx.*artifacts.
Select minimum API level as 16 or higher.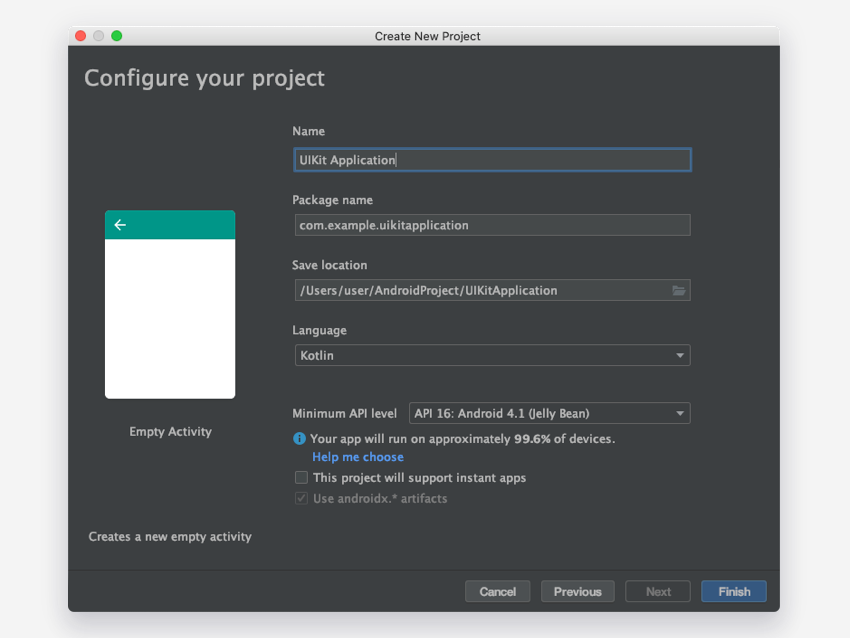 You can install UIKit for Android through Gradle. Begin by opening the root build.gradle file and add the code blocks below:
Note: Make sure the code blocks above aren't added to your module build.gradle file.
Next, open the build.gradle file at the application level. For both Java and Kotlin, add the code blocks and dependencies as follows:
Before saving the build.gradle file, check if you've enabled dataBinding. Then, click the Sync button to apply all changes.
Note: UIKit SDK versions 2.1.1 or lower can be downloaded from JCenter until February 1, 2022. SDK versions higher than 2.1.1 will be available on Sendbird's remote repository.
A Sendbird application comprises everything required in a chat service including users, channels, and messages. To create an application:
Go to the Sendbird Dashboard and enter your email and password to create a new account. You can also sign up with a Google account.
When prompted by the setup wizard, enter your organization information to manage Sendbird applications.
Then when your dashboard home appears after completing setup, click Create + at the top-right corner.
Once you've created a new application, go to Users and click Create user + at the top-right corner. This step is necessary in order to create a group channel and send a message.
Only one Sendbird application can be integrated per app for your service regardless of the platform. All users within your Sendbird application can communicate with each other across all platforms. This means that your iOS, Android, and web client app users can send and receive messages with each other without any further setup. However, users in different Sendbird applications can't chat with each other since all data is limited to the scope of a single application.
To integrate and run Sendbird UIKit in your application, you need to initialize it first. You can initialize SendBirdUIKit instance by passing the SendBirdUIKitAdapter instance as an argument to a parameter in the SendBirdUIKit.init() method. The SendBirdUIKit.init() must be called once in the onCreate() method of your client app's Application instance.
Add the created BaseApplication to AndroidManifest.xml.
ChannelListActivity is the starting point for launching UIKit in your application. By implementing the code below, you will see a complete list of group channels that you're a member of.
You can now run the application on an emulator or a plugged-in device. To send a message, you must first create a group channel by clicking on the icon in the top-right corner. Then, you can select users you wish to invite as members to your channel. Once the channel has been created, type your first message and press send.
You've successfully sent your first message with Sendbird.
Note: To customize your user list instead of retrieving the entire list from Sendbird server, set the custom user list query handler.
---
Methods provided by Sendbird UIKit for Android automatically process data using our Chat SDK. Using Activities and Fragments, chat can easily be added to your Android client app using the components below.
This is the most important class in the UIKit. These interfaces can be used to initialize information and call all Activity components.
Listed below are the methods of the SendBirdUIKitAdapter class:
Listed below are the methods of the UserInfo class:
The UIKit also provides the following components. All components can be called while fragments and activities are running on the Android platform.