Sendbird UIKit for React is a development kit that enables fast and easy integration of standard chat features into your React client apps. From the overall theme to individual styles such as colors and fonts, components can be fully customized to create an in-app chat experience unique to your brand identity. This library isn't designed to work with other frameworks such as Vue or Angular.
Note: UIKit for React now supports both open channels and group channels.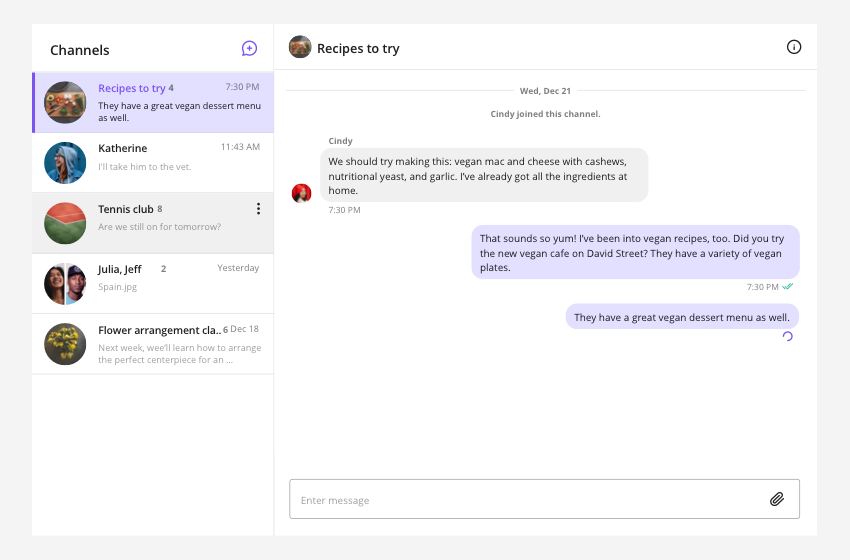 ---
Easy installation
Fully-featured chat with a minimal amount of code
Customizable components, events, and views
Customizable user list to enable chat among specified users
---
The minimum requirements for UIKit for React are:
React 16.8.0+
React DOM 16.8.0+
Sendbird Chat SDK for JavaScript 3.0.115+
css-vars-ponyfill 2.3.2
date-fns 2.16.1
Note: From v1.3.0, UIKit doesn't support moment.
---
| Browser | Supported versions |
| --- | --- |
| Internet Explorer | 11 or higher |
| Edge | 13 or higher |
| Chrome | All modern versions |
| Firefox | All modern versions |
| Safari | 11 or higher |
---
Our sample app has all the core features of Sendbird UIKit for React. Download the app from our GitHub repository to get an idea of what you can build with the actual UIKit before building your own project.